Analogue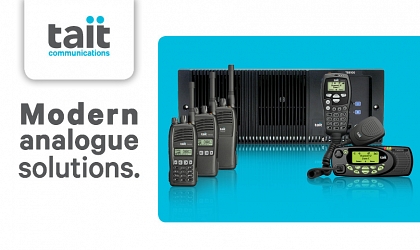 Click on the image to view larger version.
Analogue Solutions
Tait Communications provides complete analogue solutions with a range of portables, mobiles, networks and services. Tait analogue solutions are upgradable, if and when you need to, for a fully digital future.
Tait analogue solutions are:
Cost effective
Scalable and flexible
Tried and tested
Designed for worker safety
Future proofed
Digitally connected.
With simplified network design, open standards, tailored support and maintenance packages, remote diagnostics and legacy system support, Tait Communications analogue solutions lower the overall cost of ownership.
Tait analogue solutions are modular, enabling you to expand your communications infrastructure as your business grows. Ultimate flexibility is available with legacy 4-wire support into the IP backbone of MPT-IP that enables you to choose how to implement your radio system as time and budget allows.
Tait has a large install base of fully-redundant, fault-tolerant systems that provide the highest possible levels of reliability and availability. Tait analogue solutions are well established across the globe and continue to be respected as relevant solutions for many business communication needs.
Designed for worker safety
Every Tait radio has a range of flexible, easily-deployed worker safety features that combine to deliver peace of mind for both workers and employers.
Tait systems are scalable to meet the ever changing business environment, flexible to add functionality for greater efficiency and provide seamless migration to new technologies when business or regulatory demands require it.
The communications industry is moving towards a digital future. With TaitNet MPT, key digital connectivity – IP backbone, SNMP, SIP – is provided on a well-established platform, providing the functionality that is required now, with migration built-in for your future needs.
Find out more about our full range of Tait Communications products.
Downloads
Brochure(s) containing product specifications and accessory details is available for download.