View by Brand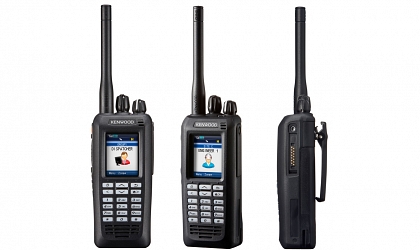 Click on the image to view larger version.
TK-D200(G)/D300(G)
A New Way of Looking at DMR
The KENWOOD TK-D200(G)/D300(G) provides all the benefits of advanced digital technology – such as low audio noise for superior clarity and advanced vocoding technology for inherently secure voice communication – to increase the efficiency of your business, and is compatible with both analogue and digital modes. The large colour LCD display and intuitive GUI are designed for user-friendly operation.
Colour 2-inch Display
The colour 2-inch QVGA (320 x 240 pixels) transflective TFT display allows the user to check at a glance on operating status, including signal strength, battery level, and caller identity. The sunlight-readable display is recessed to minimise the risk of damage to the screen and to prolong the usable life of the product.
Intuitive GUI
Unique to this DMR radio are the vibrant 250-colour icons that can be assigned separately for each channel to easily distinguish the caller. A function can be assigned to any key on the keypad; this is then displayed on the display (Key Guide). Backlighting and brightness adjustment ensure easy viewing in the dark.
Text Message and Status Message
The user can send extra-long text messages (up to 368 characters), and as many as 200 status messages can be stored for convenience.
Long-Lasting Battery Life
The TK-D200/300 Series features a long-lasting battery life (more than 19 hours with KNB-57L) to ensure users are always available on demand.
Contact List
Users can call up a Contact List that holds Individual IDs and Group IDs, enabling quick selection and access to individual, group, status or message functions.
Enhanced Detection of Possible Emergencies
KENWOOD DMR radios are equipped with special features to provide an extra layer of security for individuals working remotely or in potentially hazardous situations. Man-Down Detection will sense if the radio is positioned at an unusual angle – for example, when a body-worn radio is horizontal. Stationary Detection* senses a lack of movement for a set period, and Motion Detection senses vigorous movement (such as running). Each of these can activate Emergency Mode: a message can be sent to a (selectable) predetermined person or group to alert them that the user may be in distress.
Operating in Lone Worker mode, the radio will detect a long (programmable) pause in button operation or movement and audibly alert the user; if the user does not respond, the radio can then place an emergency call to a predetermined person, group or dispatcher.
*Optional software license required
Enhanced Audio Quality
JVCKENWOOD has drawn on decades of expertise in audio equipment development to ensure that the sound quality of the new TK-D200(G)/D300(G) is clear and crisp, as well as loud. The AMBE+2™ VOCODER technology accurately replicates natural human speech nuances for superior voice quality, even with high levels of ambient noise. Additionally, Voice Announcement can read out the received channel number to inform the user of channel changes, so there is no need to look at the display.
Built-in GPS
The TK-D200G and TK-D300G models (identified by the letter G) feature an integrated GPS module which can transmit positional data (latitude, longitude, and altitude). In Emergency Mode, this information can be sent to a dispatch or control centre (designated separately for each zone/channel), if desired. The user can view GPS positional data on the display for convenience.
Comfortable yet Rugged
The rounded contours of the TK-D200(G)/D300(G) provide a superbly comfortable grip, while the non-slip rubberised channel knob with improved torque characteristics ensures a positive tactile response during operation. The radio is compliant with MIL-STD C/D/E/F/G and IP55 dust/water protection.
Use Your Existing KENWOOD Accessories
TK-D200/300 Series radios are designed to operate with existing accessories such as the KSC-25, KSC-25L, KSC-256 series chargers; the current KNB-55L, KNB-56N, KNB-57L Series batteries; and standard whip antennas. This helps to minimise outlay and provides a cost-effective migration path from analogue to digital radio systems.
Rapid User Response
After powering up the TK-D200(G)/D300(G) or changing the battery, the radio is ready in a few seconds, enabling a rapid user response. Similarly fast is the GPS Time To First Fix, taking just 10 seconds (hot start), or less than a minute from a cold start.
Key Features
High-resolution Colour 2.0-inch QVGA (320 x 240 pixels) Transflective TFT Display
Recessed and Sunlight-Readable Display
Intuitive, User-friendly GUI
Text capacity of up to 368 Characters per Message
Storage for 200 Status Messages
High-speed Start-up
Emergency Status Detection with Motion Sensor
GPS Data Transmission for Each Channel
3-colour LED (Red, Green, Orange)
Enhanced Audio Quality
IP54/55 & MIL-STD C/D/E/F/G
Max. RF Output Power: 5W for VHF (TK-D200(G)), 4W for UHF (TK-D300(G))
Model Variations (VHF and UHF):

Full 18-key model with colour 2-inch display and integrated GPS module
Full 18-key model with colour 2-inch display
Non-keypad, non-display model with integrated GPS module
Non-keypad, non-display model
Downloads
Brochure(s) containing product specifications and accessory details is available for download.