View by Brand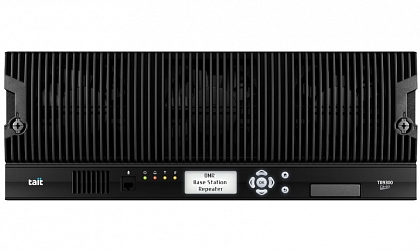 Click on the image to view larger version.
TB9300
The Tait TB9300 Base Stations are trunked, IP connected, digital base stations for DMR Tier 3 networks. The functionality of these base stations allows for flexible network designs and easy migration paths from analogue networks to DMR.
These spectrally efficient base stations provide a 6.25kHz equivalent operation using 2 x TDMA channels in one 12.5kHz channel, giving you greater capacity now and providing a future path for expansion.
The TB9300 also provides operational efficiencies through remote network management and IP connectivity capabilities.
Ultra narrowband, IP Connected, digital networks
Key Features:
Ultra-narrowband 6.25kHz equivalent technology (2 x TDMA channels in one 12.5kHz channel)
Adherence to the DMR Tier 3 standard with proven interoperability tests
Full IP connectivity allows efficient scaling and design of your network
Extensive range of remote management and monitoring capabilities with a security focus
Designed and MIL-STD tested for reliability, combined with features to mitigate network outages
Built from the proven TB8100 base station/repeater pedigree
Packet data over traffic channels for Workforce Management, Telemetry, SCADA and other applications
Downloads
Brochure(s) containing product specifications and accessory details is available for download.