View by Brand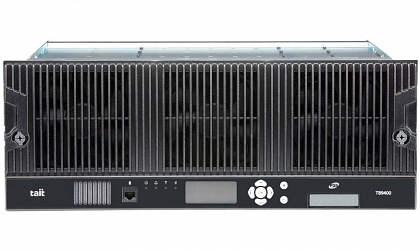 Click on the image to view larger version.
TB9400
The TB9400 base station is the second generation P25 base station with IP connectivity from Tait. It is both 12.5 kHz P25 Phase 1 FDMA operational and 6.25 kHz equivalent P25 Phase 2 TDMA trunked software-upgradable, so customers can transition to a more spectrally efficient solution, with greater capacity and future proof their investment.
The TB9400 delivers on deployment and operational efficiency with Phase 2 upgradability, Linear Simulcast Modulation (LSM), and remote network management.
More efficient networks. More possibilities.
To ensure a smooth migration from P25 Phase 1 to P25 Phase 2, the TB9400 features 12.5kHz P25 Phase 1 FDMA operation and is software-upgradable to 6.25kHz equivalent P25 Phase 2 TDMA trunked.
Designed for mission-critical operations, the TB9400 is P25 open-standards compliant, ensuring interoperability with other agencies and enabling greater choice for a mission-critical communications solution to best meet your requirements.
efficient network management, the TB9400 features remote management and monitoring options including inbuilt diagnostics and access level control, multiple user accounts, remote fault diagnosis, and detailed alarm monitoring and management via IP. The intelligent and reliable Tait TB9400 base station is the cornerstone of a Tait P25 Phase 2-upgradable system; helping to keep your staff safe and your organisation running to its full potential.
Key Features
Operation in 700/800MHz and VHF bands
Flexibility in network design and scalability with a modular design and IP connectivity
Increased competition, capacity and interoperability with adherence to the P25 standards and software-upgradability to P25 Phase 2
Extensive remote management and monitoring options with a focus on security
MIL-STD designed and tested for reliability to mitigate network outages
Downloads
Brochure(s) containing product specifications and accessory details is available for download.