View by Brand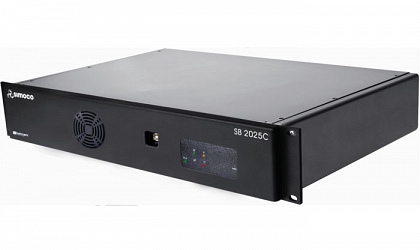 Click on the image to view larger version.
SB2025C
Simoco is committed to service and innovation with a proud 90 year history. Our state of the art product development facilities, extensive P25 product range and our experience in emergency service applications including police, fire, ambulance and other emergency organisations make Simoco an expert partner in public safety communications.
The SB2025C Base Station offers market leading P25 performance in a robust, reliable yet compact 2U form. Designed and built to exceed industry standards and all international specifications it is available in the widest range of frequency bands.
Performance & Reliability
Advanced component, surface mount technology, encased in a rugged machined module, with an optimised PA heatsink to reduce transmitter temperature rise, combine to ensure SB2025C's outstanding performance and reliability under the harshest conditions and in continuous operation.
The sensitive receiver features a wide switching bandwidth while maintaining good blocking, intermodulation and adjacent channel performance. The broadcast transmitter exciter module has very low spurious emission levels, and is followed by an efficient RF power amplifier.
Downloads
Brochure(s) containing product specifications and accessory details is available for download.