View by Brand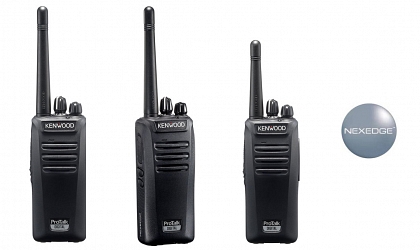 Click on the image to view larger version.
NX-240/340
Your business will have to adopt digital radios sooner or later, you know that, but you probably wonder when to make the extra investment. A leap into the unknown? Not with the new NEXEDGE® NX-240/340. It operates in both analog FM and NXDN® digital modes, offering a cost-effective way to migrate smoothly from legacy systems while discovering the benefits of advanced digital technology – including increased effective coverage area, low noise for superior clarity, and inherent secured voice. All this comes in a tough, compact radio that is easy to operate, delivers high-powered audio, and ensures round-the-clock reliability. Don't delay the opportunity to expand the potential of your business.
NXDN® Digital Air Interface
NEXEDGE® radios employ NXDN®, an FDMA digital air interface with AMBE+2™ voice coding technology, unique filtering and a 4-level FSK modulation technique with low bit error rate (BER) even at weak RF signal strengths.
Enhanced Audio Quality
AMBE+2™ VOCODER technology accurately replicates natural human speech nuances for superior voice quality, even at highway speeds. Additionally, the powerful 36mm-diameter speaker delivers up to 1 watt audio output, providing undeniably clearer and crisper audio.
Ultimate Performance
RF output power is 5W for both VHF (NX-240) and UHF (NX-340). Additionally, the UHF frequency coverage on the NX-340 is 70MHz.
Ergonomic Design
The slim contours and ergonomic design of the NX-240/340 make it comfortable to hold, while the dimples on both sides ensure a firm grip.
32 Channels / 2 Zones
The NX-240/340 can be used with two conventional zones, offering up to 16 channels per zone.
Switchable Digital and Analog Dual Modes
The NX-240/340 is effectively two radios in one – analog and digital – operating on 12.5kHz in analog zones, and on 6.25kHz NXDN® in digital zones. For convenience, a PF key can be used to switch between zones.
6.25kHz NXDN® Digital Channel
Digital communications are more spectrum-efficient and offer wider area coverage than analog.
NXDN® Conventional
Compatible with NEXEDGE® Digital Conventional Mode, this radio offers 64 RAN (Radio Access Numbers) and individual & conference group calling to ensure expeditious communications.
High Security
Confidentiality in radio communications is a KENWOOD priority, and helping to maintain a high level of security in analog mode is a 16-code voice inversion scrambler, while robust NXDN® encryption is available in digital mode.
GPS Connectivity
The optional KMC-48GPS Speaker Microphone will enable GPS tracking applications to work with the NX-240/340. GPS data can be transmitted at programmed timing, or upon receiving a request.
Other Features
Digital:
Over-The-Air Alias (TX only)
Paging Call
Individual Call & Conference Group Call
Status Messaging
Remote Monitor
Site Roaming
Late Entry
NXDN® ESN
Analog:
FleetSync®, MDC-1200, DTMF
QT/DQT/2-tone
Compander
Squelch Level
General:
Multiple Scan
4-Color LED (Blue / Red / Green / Orange)
2 PF Keys
16-Position Mechanical Selector
Zone / Channel Number Voice Announcement
VOX Ready
Emergency Call
Remote Stun/Kill
Lone Worker Alert (per channel)
Time Out Timer
Busy Channel Lockout
Low Battery Warning
Battery Saver
KPG-169D Windows® FPU
Wireless Cloning
Password Protection
PTT Release Tone
Minimum Volume
Mic Sense
MIL-STD-810 C/D/E/F/G
IP54/55 Water & Dust Intrusion
Downloads
Brochure(s) containing product specifications and accessory details is available for download.