View by Brand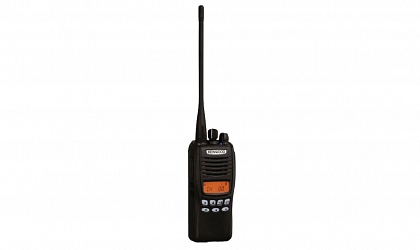 Click on the image to view larger version.
FreeTalk 477 TK-3310
This rugged 80-channel CB transceiver (no licence required) is easy to use and perfect for all forms of rough-and-tumble recreational outdoor activities. It can also be enhanced to offer 128-channel capability for commercial applications. And thanks to its superb audio performance and features like silent stand-by, this all-round performer is ready for any challenge.
Licence-Free 80-Channel CB Radio
As the FreeTalk® 477 logo indicates, this transceiver requires no licence for use of all narrowband 80 simplex CB channels* including 16 repeater channels. And to provide compatibility with legacy models, you can select wide/narrow bandwidth for RX (channels 1 to 40).

*Except guard band channels 61-63.
Robust & Water-Resistant
You can depend on all-weather performance from this tough transceiver. As well as passing the demanding IP54/55 tests, even with the optional KMC-45 speaker microphone attached*, the TK-3310 meets or exceeds 11 MIL-STD C/D/E/F/G environmental standards, including "blowing rain".

* Locking bracket required
Clear & Crisp Enhanced Audio
The TK-3310 also packs 500mW of audio power and offers superb clarity. As an experienced audio specialist, Kenwood has decades of expertise that is reflected in everything from component selection and construction to optimization, evaluation and analysis. The difference is loud and clear.
Silent Mode CTCSS/DCS Stany-By
Silent standby is a very welcome feature when there is a lot of radio traffic. The built-in CTCSS and DCS encoder/decoder covers 50 CTCSS sub-tone frequencies and 104 DCS codes, allowing you to set up the radio so you only hear calls from your own group – everything else is ignored.
Superb Operating Ease
Using this transceiver will quickly become second nature thanks to the ergonomic design and multiple PF keys (7 on the front, 2 on the side). The 8-character alphanumeric aliases make life simple, while the 4-colour LED (blue/red/green/orange) and backlit LCD provide at-a-glance confirmation of operating status even in low-light situations.
Strict Quality Control
The TK-3310 is manufactured in Kenwood's Singapore factory which has been assessed and registered as ISO 9001 compliant (ISO 9001 is the international standard for Quality Management Systems). Moreover, each transceiver has passed Kenwood's own quality tests – more extreme than any of the accepted industry standards – which simulate years of sustained, demanding use in harsh operating conditions.
Commercial CH Mode Ready
(Enhanced Feature)
Kenwood's TK-3310 is more than just a CB radio: enterprises can make use of 128 private channels (range: 450-500MHz TX, 450-520MHz RX), in compliance with the relevant radio regulations.*

* Standard Australia Specification No. AS/NZS 4295:2004 (Commercial).
Other Features
Simplex/duplex select (channels 1 to 8, 41 to 48)
Scan mode
Signal strength indicator
Battery indicator
Battery saver
Time-out timer (TOT)
Windows® PC programming & tuning
Supplied Accessories
Kenwood's TK-3310 is bundled with the following accessories and a user manual – everything you need to start using the radio, today!
Li-ion Battery
Rapid Charger
Antenna
Belt Clip
Downloads
Brochure(s) containing product specifications and accessory details is available for download.