View by Brand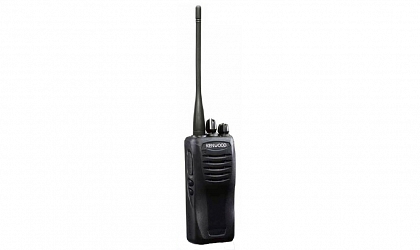 Click on the image to view larger version.
TK-2407/3407
KENWOOD's TK-2407/3407 portable radios deliver professional performance, enhanced features such as scan, built-in VOX, a long battery life, as well as a sleek design. Offering 5 watts of power and MIL-STD810 & IP54/55 weatherproofing, these portables have been expertly engineered to perform in the toughest of environments.
Compact Design
The rounded contours of the TK-2407/3407 provide a superbly comfortable grip, while the non-slip elastomer channel knob with improved torque characteristics and an enlarged PTT button ensure positive tactile response during operation.
Tough & Water Resistant
Built to perform in the toughest environments, the TK-2407/3407 has passed the demanding IP54/55 dust and water intrusion tests – both with and without an optional speaker microphone. It also meets or exceeds 11 stringent MIL-STD 810 C/D/E/F/G environmental standards, including 'driven rain".
Enhanced Audio Quality
As an experienced audio specialist, KENWOOD has drawn on decades of expertise to ensure that the sound quality of TK-2407/3407 is undeniably clearer and crisper, as well as loud – thanks to the 36mm-diameter speaker, which delivers up to 1 watt audio output.
Ultimate Performance
Output Power is 5W for both VHF (TK-2407) and UHF (TK-3407). Additionally, the UHF frequency coverage on the TK-3407 is 70MHz.
Multiple Signaling
QT / DQT / DTMF • FleetSync® PTT ID, SelCall
2-tone (encode/decode) • 5-tone (encode/decode)*
Built-in MDC-1200 signaling
FleetSync® and MDC-1200 signaling can be independently selected for each zone. Switching is as simple as changing zones.
*Feature available
16 Channels
The TK-2407/3407 provides ample capacity for operating with multiple channels or radio systems, as well as a Channel Stopper option to provide guidance in selecting the intended channel.
2 Programmable Function Keys
Both PF Keys can be programmed for any of the many functions available, permitting customization to suit your specific requirements. Either key can also be programmed for an Emergency function.
Lone Worker
This ingenious feature provides an extra layer of security for individuals who work in remote or hazardous areas. As long as the buttons are pressed regularly, the radio operates normally. However, if there is a long lapse (programmable), it will sound an alert. And if the user does not respond to the alert, the TK-2407/3407 will place an emergency call to a predetermined person or group.
Radio Stun
This function disables a lost or stolen radio over the air, eliminating security risks.
Independent Settings per Channel
(VOX, COMPANDER, SCRAMBLER)
Radio channels can be programmed independently for VOX, scrambler and compander functions. This means a user can switch a function on or off simply by changing channels (on the same frequency).
Built-In Voice Scrambler*
This feature provides basic protection against casual eavesdropping. Up to 16 of 2097 possible inversion frequencies can be chosen and assigned to any channel.
*This function cannot be used in certain countries. Please contact us for further information.
GPS Connectivity
The KMC-48GPS Speaker Microphone provides an option for GPS tracking.
Other Features
Priority Scan
Voice Annunciation
Password Protection
Talk Around
Busy Channel Lockout
Key Lock
4-color LEDs (blue, red, orange, green)
Scan Del/Add
Wireless Cloning
KENWOOD ESN (Electronic Serial Number)
Adjustable Microphone Gain (by FPU): High or Normal
Microsoft Windows® PC Programming & Tunin
Downloads
Brochure(s) containing product specifications and accessory details is available for download.