View by Brand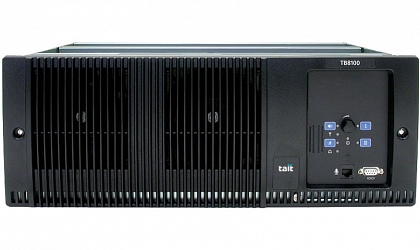 Click on the image to view larger version.
TB8100
The TB8100 is a highly flexible base station/repeater, ideal for any analogue application: a simple conventional repeater, POCSAG paging transmitter, simulcast or MPT 1327 trunked system.
The TB8100 is a high performance base station/repeater designed to cope with the harshest of operational environments.
Featuring remote monitoring and configuration as well as a powerful local control application it is available in 5, 50 and 100W configurations in a range of popular frequency bands.
Proven performance and reliability
Key Features:
255 channels with up to 16 CTCSS and DCS sub-audible tones per channel, making it suitable for use as a community repeater without requiring additional equipment*
Covers key frequency bands from 136MHz to 941MHz
Tone on idle and CWID
Several system interface options including Isolated Audio, Isolated Audio E&M, TaitNet MPT Trunked, TaitNet RS232 and TaitNet Ethernet
An Ethernet system interface option enables IP management of user's communications system
High specification base station/repeater design
Fast key-up time of 2ms
Monitor 43 alarm parameters remotely
Computer Controlled Interface (CCI) protocol allows external computer equipment to remotely monitor and control a TB8100 base station/repeater
Power save option ideal for solar sites with receive power as low as 60mA
A built-in spectrum analyser measures received signal levels across the selected band
* Advanced Profiles option required
Downloads
Brochure(s) containing product specifications and accessory details is available for download.