LMR Portables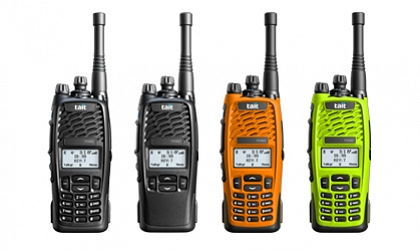 Click on the image to view larger version.
TP9400
The Tait TP9400 is feature-packed and ready to work in demanding environments with the quality and reliability which those serving our communities depend on.
More efficient networks. More possibilities.
With multiple operating modes including analogue, 12.5kHz P25 Phase 1 FDMA conventional/trunked, upgradable to 6.25kHz (equivalent) P25 Phase 2 TDMA trunked, and LSM (CQPSK) decode capability in a single device, you can transition to a more spectrally efficient solution in a time frame that suits you.
Ensure the safety of your first responders and increase operational effectiveness with TP9400 capabilities such as internal GPS* for location services (over a conventional or trunked network) and Bluetooth® wireless technology* for accessory connectivity. With additional Man Down and Lone Worker functionality, and AES encryption capability, your first responders can work confidently, knowing their communications are secure.
Tait products are known for their rugged build, and the TP9400 is no exception. The robust design has IP67 sealing and shock absorbing impact-protected corners, exceeds relevant MIL-STD-810G standards, and features a water-shedding grille which aids voice clarity in wet environments.
TP9455: 4 keypad portable
TP9460: 16 keypad portable
Key Features:
Operation in VHF and 700/800MHz frequency bands
Minimised risk with multi-mode operation for staged migration
Greater vendor choice, increased competition and interoperability with adherence to the P25 standards and software-upgradability to P25 Phase 2
Efficient operations with encryption, voice and data, simulcast support and pre-set status messages
Security-focused fleet management with Over-the-air Rekeying (OTAR) and Tait Key Fill Device (KFD) support
Colour options available – black, orange and hi-visibility green
Downloads
Brochure(s) containing product specifications and accessory details is available for download.