LMR Mobiles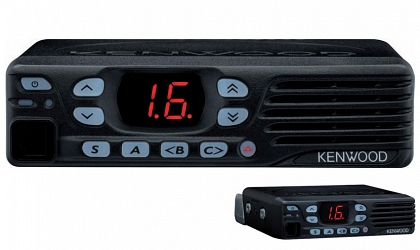 Click on the image to view larger version.
TK-7302/TK-8302
Kenwood's new TK-7302/8302 delivers reliable mobile performance with extra wideband coverage (UHF: 70MHz) and such features as QT/DQT signaling, multiple scan functions and a voice inversion scrambler.
Yet this tough IP54/MIL-STD-compliant radio is decidedly user-friendly, providing high-quality audio, voice announcement, and a large display with adjustable brightness for simple operation, day and night.
General Features
16 Channels, 2 Zones
Enhanced Kenwood Audio
External D-sub 15-pin Interface
Multiple Signaling
Programmable Voice Inversion Scrambler
Programable Blue LED
GPS Feature
Multiple Scan Functions, including Priority Scan
Voting (automatic repeater search & selection)
Independent Setting Per Channel (compander, scrambler)
BCL (Busy Channel Lockout)
9 Programmable Function Keys
Talk Around
Horn Alert Function
Companded Audio (narrow/wide)
3-colour LED (red, orange, green)
Voice Announcement (choice of language between English, Spanish, French, German, Italian, Dutch, Russian and Chinese)
Password Protection
Time-out Timer
Minimum Volume Setting (by FPU)
Operator Selectable
Tone Settings
Embedded Message
8 Programmable Accessory Ports (for external control)
Scan Del/Add Function
Kenwood ESN (Electronic Serial Number)
Radio Stun
Adjustable Microphone Gain (FPU only) : High/Normal
Microsoft Windows® PC Programming & Tuning
Downloads
Brochure(s) containing product specifications and accessory details is available for download.