Digital Mobile Radio (DMR)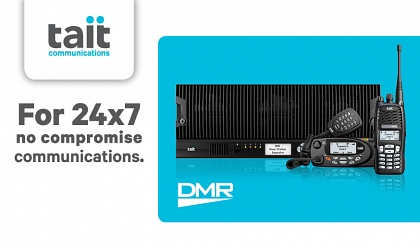 Click on the image to view larger version.
DMR Solutions
Tait DMR is the no compromise digital radio platform for critical communications. It is the right platform for building a fully connected and secure organisation with improved voice, data and location services.
With the highly flexible and scalable Tait DMR products and solutions, organisations are able to achieve significant benefits, including:
Improved worker safety
Business and workforce efficiency
Operational security
Increased network performance and reliability.
Tait DMR Tier 3 Features
The Tait Enable suite of network management components helps utilities to more effectively manage their communications infrastructure. Tait Enable monitors and reports on your DMR network to give you greater control over your assets.
Vehicle location and telemetry data drive improvements in organisational efficiency. DMR Tier 3 exceeds DMR standards to offer unparalleled AVL and telemetry data capacity, even during peak voice traffic.
Radio network capacity management
The DMR Tier 3 platform gives network managers greater radio network visibility and control, improving decision making and delivering more efficient use of radio spectrum.
With superior audio quality at the edge of coverage, excellent range, support for high power transmission, and the ability to reuse existing sites and spectrum, Tait DMR Tier 3 is the most cost-efficient digital radio solution providing analogue equivalent coverage.
Tait DMR Tier 3 has been engineered to support the highest levels of conversation privacy. The trunked DMR Tier 3 platform provides support for network access control, voice and data encryption, conversation privacy and radio stun and kill.
Find out more about our full range of Tait Communications products.
Downloads
Brochure(s) containing product specifications and accessory details is available for download.