P25 Digital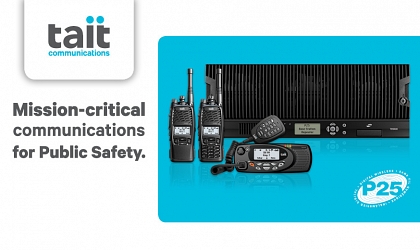 Click on the image to view larger version.
P25 Solutions
Tait delivers proven and interoperable P25 mission-critical voice communication solutions for Public Safety organisations around the world. Tait has invested in delivering superior P25 solutions that are robust, interoperable and secure. With a range of both P25 Phase 1 and Phase 2-upgradable open standard-based elements, Tait can provide a complete end-to-end solution to meet your unique organisational requirements.
The Tait P25 platform is engineered to deliver significant operational benefits to Public Safety organisations, including:
Operational and worker safety compliance
Operational effectiveness and efficiency
Smooth and seamless upgrade paths
Proven interoperability
System availability and resiliency
Information security and privacy.
Tait can deliver complete network upgrades smoothly, on-time, on-budget and without disruption to your operations. With network design, multi-mode terminals, software upgrades, an IP-connected TB9400 base station and a range of network types, Tait has an upgrade path to suit everyone.
The Tait P25 platform provides high levels of network redundancy and fault tolerance to deliver availability over 99.99%. State-of-the-art coverage design tools ensure optimized network configuration and verified network coverage, and automatic fall-back modes ensure maintenance of service and worker safety.
Efficient and effective operations
Easily address changes in your organization via software upgrades and remote management capabilities. Tait P25 supports data and location-based applications and services. The P25 ISSI enables interconnection with neighbouring P25 networks.
Information and infrastructure security
For confidence in communication security, Tait P25 networks are engineered to protect the infrastructure from both physical and cyber-attack and to deliver information privacy through the provision of encryption.
The Tait P25 platform is designed to deliver superior communications and network performance throughout its life – minimizing both CAPEX and total cost of ownership.
Benefit from spectral efficiency, multi-vendor interoperability, security, migration and data capability as demanded by the P25 standards and some regulators.
Find out more about the New P25 Best Practice Guides, and our full range of Tait Communications products.
The Tait TP9400 P25 radio are built to be one of the toughest Public Safety radios ever made. Watch to find out how tough the Tait radios really are.
Downloads
Brochure(s) containing product specifications and accessory details is available for download.