Base Stations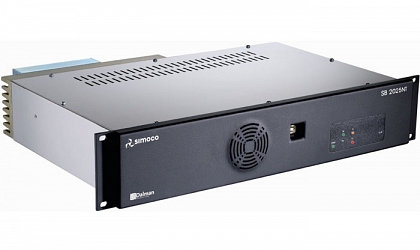 Click on the image to view larger version.
SB2025NT
Simoco is committed to service and innovation with a proud 90 year history. Our state of the art product development facilities, extensive P25 product range and our experience in emergency service applications including police, fire, ambulance and other emergency organisations make Simoco an expert partner in public safety communications.
Enabling Solutions in Simulcast Technologies
Auto Set-Up and Synchronisation
Remote Management
Lowest Lifecycle Costs
The SB2025NT Simulcast Base Station offers market leading P25 performance in a robust, reliable yet compact 2U form.
Designed and built to exceed industry standards and all international specifications it is available in the widest range of frequency bands.
Building on the plug and play principles of analogue Solar 25 simulcast systems, SB2025NT integrated simulcast and voting controller offers enhanced resilience and full remote management of base station network, while interfacing in a cost effective, compact component based P25 system.
With a cost advantage that extends the benefits of simulcast to dealers and customers previously excluded by the cost and complexity of the technology. With Dalman Solar 25 inside, P25 simulcast solutions are brought within YOUR reach.
Downloads
Brochure(s) containing product specifications and accessory details is available for download.