Applications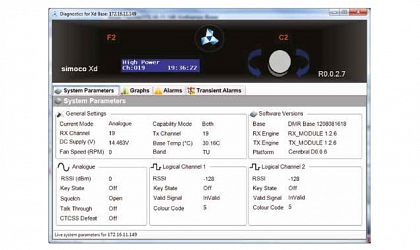 Click on the image to view larger version.
Simoco Xd Software Tools
Simoco Xd Management Software
Instant push-to-talk digital voice communications
VoIP connectivity
Open-standards applications support
Simoco Xd Management Software comprises a rich suite of applications to manage the infrastructure products by bringing fully integrated network management facilities to DMR communications networks.
Simoco Xd Management Software is a range of PC based tools designed to configure and manage Simoco Xd Infrastructure. Building on experience gained in developing IP connected radio communications systems, Simoco Xd brings end-to-end digital communications to business and mission critical radio networks. Native IP connectivity brings the ability to remotely monitor and update all aspects of the system minimising down time and reducing site visits.
Simoco Digital Management Terminal
The Simoco Digital Management Terminal (SDMT) is a comprehensive Network Management Terminal which is used to configure and manage Simoco Xd infrastructure. IP connectivity allows either local or remote operation.
Simoco Diagnostic Monitor
The Simoco Diagnostic Monitor allows real time monitoring of the status of a Simoco Xd DMR repeater.
IP Configuration Tool
Essential for both system configuration and field support scenarios. The IP Configuration Tool is a utility which is used to set and edit the IP configuration parameters of Simoco Xd DMR repeaters.
Command Monitor
The Simoco Xd Command Monitor enables system supervisors and maintainers to interrogate and analyse system alarm records.
Downloads
Brochure(s) containing product specifications and accessory details is available for download.