Applications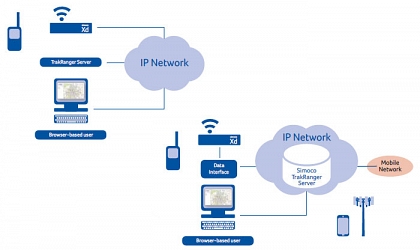 Click on the image to view larger version.
Simoco Xd TrakRanger
This fully integrated solution not only provides the reassurance of locating individual assets and employees, but also brings additional benefits through Lone Worker Alerts and Emergency Alarms, Text Messaging and Geo-fencing. Operating either from a local server within Simoco Xd infrastructure or via a webhosted service, TrakRanger offers a flexible, scalable approach to employee security, work force and asset management.
Features
Real-time tracking
Alerts for emergency alarms and lone worker
Location history
Messaging
Geofencing
Browser-based user interface for PC or smartphone
Internet sourced mapping for both on and offline use
Configurable event alerting
Proven solution fully integrated with Simoco Xd
Benefits
Improved awareness of staff and asset availability with GPS tracking of radio users
Increased worker safety through lone worker alerts and emergency alarms
Traceability and event reconstruction using location history
Enhanced work dispatching and control via text messaging interface
Rapid, low cost expansion through the browser-based interface
Browser interface enables remote access using mobile devices
Visualise the work area with a wide range of mapping options
Configurable event actions for initiating e-mail alerts or integration to third party systems
Downloads
Brochure(s) containing product specifications and accessory details is available for download.