Analogue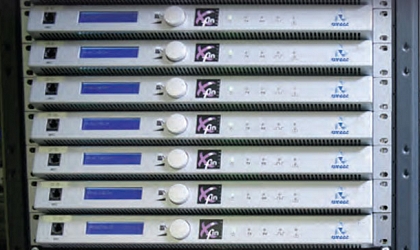 Click on the image to view larger version.
Xfin Base
Xfin Base takes the same IP principles that form the core of the Xfin Trunked MPT 1327 system to create a totally new concept in conventional basestation technology - a conventional basestation that's software and IP controlled, enabling a truly distributed solution for in excess of 100 conventional basestations and in excess of 50 Dispatch stations - a conventional basestation that is in all regards quite unconventional.
Flexible Options
Each Xfin Base with 25W, 50W and 100W power output comes fully loaded with the latest Xfin Base IP distributed software. Along with its sister product, Xfin Base dispatcher, with integrated IP soft switch functionality it provides all the essential elements of a distributed conventional IP network solution for over 100 basestations and 50 Dispatchers in any required configuration on the 'IP Cloud'.
IP Connectivity & Resilience
With the exception of the analogue air interface, Xfin Base is fully digital and IP, utilising VoIP to carry voice traffic. Each Xfin Base is an IP device; networking by the same IP rules as standard IT equipment; each Xfin voice or data call just additional IP data stream in the same format as, say, your company email. So now for the first time PMR can be integrated into a single corporate IP network utilising cost effective IP connectivity options such as WI MAX and ADSL, dramatically reducing inter-site networking costs whilst providing inherent, distributive, network resilience.
Engineering procedure revolutionised
Dispatcher with IP Soft Switch functionality eliminates the cost and complexity of integrating component switching hardware
Plug and play technology reduces Xfin Base deployment to a simple software wizard
Remote maintenance enables constant system monitoring and fault isolation
Simple hot swap replacement enables one stop fast fault resolution and reduces spares holdings to redundant Xfin Base units
Xfin Base and Dispatcher both fully software upgradeable to the Xfin Trunked MPT1327 standard
Futureproof
Most industry players have diverted all their investment away from analogue conventional technologies leaving customers with very few options in these markets. At the same time Team Simoco has raised standards to new levels by creating Xfin digital I P based solution. Quite simply Xfin Base is the only analogue conventional radio technology designed for the IP networking challenges of the next decade and beyond. Quite simply, it has to be Xfin Base - The Un-Conventional Basestation and Dispatch solution.
Downloads
Brochure(s) containing product specifications and accessory details is available for download.