Analogue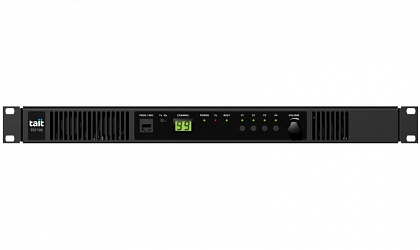 Click on the image to view larger version.
TB7100
The TB7100 is a compact, cost-effective base station/repeater for use as a line-controlled base, talk-through repeater, RF modem, data repeater or with TaitNet TN1100 MPT 1327 trunking system
Proven performance and reliability.
Key Features:
100 channels with CTCSS and DCS sub-audible signalling
Covers seven key frequency bands from 66-530MHz
Two digit LCD display
Four programmable function keys
Continuous duty at 25W, 40W (UHF) and 50W (VHF) power output
Full duplex operation (when fitted with optional duplexer)
Tone on idle and CWID
Uncompromising base station/repeater design:
Entire unit housed in a 1U high rack, including internal power supply
Capable of operation at ambient temperatures of up to 140°F (60°C) and lowest -22°F (-30°C)
Fans and heat sink designed to give 100 per cent transmit duty cycle
Programmable fan operation
Integral monitor speaker for audio testing
9-way RS232 serial data port
25-way system interface for connecting external equipment
Low standby power consumption (140mA in economy mode, 25W)
Rack or wall mounted
Downloads
Brochure(s) containing product specifications and accessory details is available for download.